Heart Health Tips for Nursing Home Residents
Heart disease reigns as "public enemy number one" for Americans' health. In fact, almost half have some type of cardiovascular problem.  Statistically, heart disease is something that can affect many nursing home residents.
Nursing Homes and Heart Care
In our skilled nursing facilities, our health care team carefully monitors vital signs and makes sure that all dietary restrictions are followed.
If you or your loved one has a heart condition, rest assured that it will be monitored carefully, working with your doctor to ensure your individual treatment plan is conducted in an accurate and timely fashion. Our nutritional team carefully selects meals that are both delicious and lower in salt for those who are on a heart-healthy diet. Our physical and occupational therapists work with your loved one on any exercises they are safely able to do.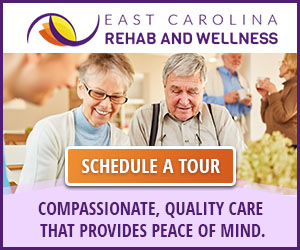 In fact, we've got plenty of heart health tips from our health care team that will help you or your loved one. Not all of these tips involve vigorous exercise, and some of these may surprise you.
6 Heart Care Tips for Those in Skilled Nursing Care
Be sure to take care of your teeth.
Brushing – and flossing in particular — can make a difference in your heart health. Why?
According to the Cleveland Clinic, bacteria that can cause such conditions as gum disease can move into the bloodstream and cause blood vessel inflammation. In turn, this has a devastating effect on the heart.
Be sure to get enough sleep.
Sleep is necessary. It's your body's way to "reset" and lack of sleep can cause issues with blood pressure and inflammation. One study demonstrated that those over 45 years old who sleep fewer than six hours a night doubled their risk of a heart attack compared to those who slept six to eight hours a night.
If possible, avoid sitting for long periods of time.
We encourage our residents to be as mobile as possible, and many of the members of our health care team include physical and occupational therapists who help those in our community become active participants in their health care.
Stop smoking—and avoid secondhand smoke.
While many may be aware of the dangers of smoking, secondhand smoke can also cause serious heart  encourage our residents not to smoke and try to maintain smoke-free zones throughout our facility.
Monitor your cholesterol and blood pressure.
Our health care team will monitor your or your loved one to be sure all vital signs are within healthy limits. For those who need medications, we'll provide them in accordance with your doctor's plan.
Keep a watchful eye on salt intake.
We tailor our meals to fit the needs of our residents, and this includes foods that are low in salt. As adults age, they become more sensitive to salt, which can cause higher blood pressure or edema.
Edema is a swelling of the foot or ankle.
Why Are Older Americans at Greater Risk of Heart Disuse?
Age changes your body, and the heart is no exception. Some of the changes to the heart include:
Arrhythmias
These are changes in the electrical impulses that control the heart.  The heart may beat too fast or too slow and prompt the need for a pacemaker.
Thicker heart valves
These could be considered the "doors" that allow blood to flow through the heart. With age, they become thicker and stiffer. Therefore, they are more likely to leak.
Enlarged heart
Heart chambers increase in size as we age, which can be the result of hypertension (high blood pressure). This can lead to a common heart rhythm disorder called atrial fibrillation.
At East Carolina Rehabilitation and Wellness, We're All Heart
We know that older Americans have special needs when it comes to their heart health. That's why our team monitors those who have—or who are at risk of developing—heart disease.
We do this out of more than mere duty: We do this because we have a sense of family in our community. We are working together as a team to care for the health of you or your loved one.
We'd love for you to schedule a tour so we have a chance to meet you. Caring for you or your loved one is a privilege and a sacred trust that we take very seriously.
Contact us today.