Seven days a week, 24 hours a day, we are caring for you or your loved one. Like our skilled nursing care, our compassionate dedication never stops, and this is why so many choose the skilled nursing community of East Carolina Rehab and Wellness.
We understand that it may be difficult making this choice for your spouse or parent, and that's why we want to assure you that your loved one will be treated like family. In so many ways, our residents are like our family, and we care for them as if they were our own parent or grandparent. 
We get to know each resident personally, and this shapes our entire philosophy of care that encompasses doctors, nurses, staff members and therapists.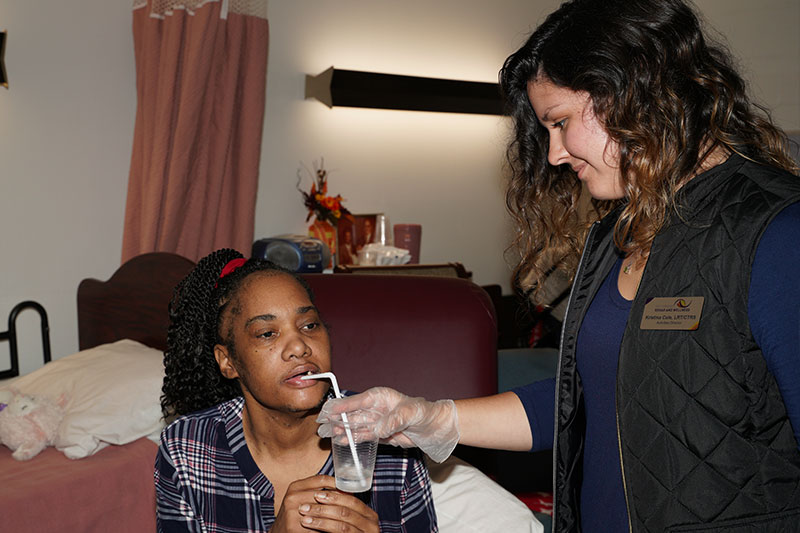 What Type of Short and Long-Term Skilled Nursing Care Is Available?
Some of the services we offer as part of our 24-hour care include:
Pain management

IV therapy

Nutritional assistance and monitoring

Post-surgical care

Physical therapy

Occupational therapy

Speech therapy
We also offer wound vac services to help those with non-healing or problematic wounds. This is the same high-quality care you'd expect to see in a wound care center, only it's conveniently located within our community. 
A non-healing wound is typically one that hasn't completely healed within four weeks. There are several reasons that a wound may not heal. These are:
Poor circulation

Infection

Edema

Poor nutrition

Repeat trauma to the wound
Without proper wound care, serious complications can arise. We know that many older adults can be susceptible to non-healing wounds, which is why we've brought together a staff that is knowledgeable, caring and committed to providing your loved one with the highest level of care
The Highest Level of Care in an Environment Like Home
One visit is all you need to experience the difference East Carolina Rehab and Wellness makes in the lives of those we touch. Our residents feel at home thanks to our kind, responsive staff and an environment that feels like home. Contact us to schedule a tour today.